As an engineering company specialised in providing comprehensive solutions for handling, lifting and transporting loads, at Kimua we have developed our own production process that includes all the values and internal culture of our kimuality philosophy.
This production process involves a set of activities carried out in different stages aimed to provide turnkey solutions for the handling of heavy and delicate loads, always complying with the highest quality standards ISO 1090/3834, and adapted to the needs of each client. This is combined with the complete involvement and collaboration provided by the team of professionals and technical resources, resulting in a production process based on the Lean Manufacturing management model.
This post describes the details of this philosophy that contrasts lean production with mass production, why it fits perfectly with our internal values, what the main stages of our production process are and the teams, both human and technical, involved in the process to achieve the success of our results.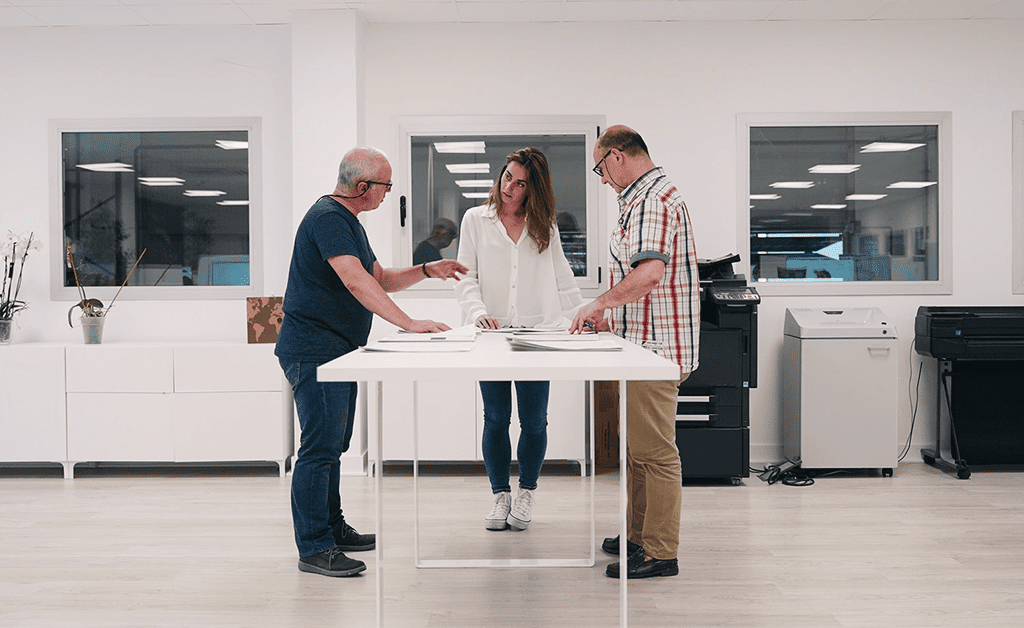 Lean Manufacturing, optimising the production process
The Lean Manufacturing philosophy that we apply in our production process focuses on constantly optimising the production system, always seeking maximum efficiency, being flexible and analytical in order to eliminate tasks that add no value, either to the process or to the client.
But this business strategy and working method would not be so successful without the human element brought by Kimua's team, undoubtedly, the most important capital we have. The Lean business culture means collaboration, trust, communication and empathy at all levels of the organisation. For this reason, we foster innovation and the involvement of the entire team in the production process: remaining constantly in contact with the working environment and with the rest of the professionals makes it easier to identify problems and solve them.
In short, a production process infused with our corporate philosophy that reflects our internal Kimuality culture: Kimua + Quality.
KIMUA: trust, desire to improve, optimism, solidarity.
QUALITY: efficiency, traceability, control, flexibility.
Would you like to know more about our methodology and work philosophy? Contact us!
Stages of the Kimua production process
Most of our projects are turnkey solutions that require all project stages, from consultancy to training, although we also offer each of these services independently.
Our production process can be summarised in five main stages:
Proposal (consultancy)
Design (3D, FEM and 2D)
Manufacturing (quality)
TSS
Training
See below the characteristics and details of each of them in order to better understand the process that each of our projects go through.
Stage 1. Offer
At Kimua we work through consultative selling. The process begins with a quotation request from the client, which leads to a technical meeting with the engineering team. This is followed by the conceptual design of the project and a new technical meeting that ends with the final proposal.
Stage 2. Design
Once the order has been placed, work on the final design is started. In this stage, the process to be followed is based on a work methodology that begins with the detailed 3D design, followed by the analytical calculation and the finite element numerical method (FEM calculation). Then, the final 3D design is made, the manufacturing plans are drawn up and all this work is validated in a meeting with the client.
Stage 3. Manufacturing
This stage is closely linked to quality, a requirement that infuses the entire manufacturing process. In addition to the tasks specific to manufacturing, such as welding, machining, surface treatments… or ISO 3834-2 and EN 1090 certificates, it is essential to highlight the quality milestones that are involved throughout the process. This is reflected in the different quality controls that we carry out, before or after each welding, machining or painting activity, among others, involved in the manufacturing process.
Stage 4. TSS
At this point in the process, our technicians, experts in the machinery designed, carry out the assembly of the equipment or solution at the client's facilities.
Stage 5. Training
This comprehensive process finally ends with training sessions using augmented reality so that our clients can get an in-depth understanding of the operation and characteristics of the machinery designed using technology and virtual reality.
Facilities, technical team and human resources
This entire production process is carried out in our facilities covering more than 7,000 square metres located in Lizarzta (Gipuzkoa).There, we have different work areas: machining, welding and assembly, as well as test areas, featuring the Non-Destructive Testing (NDT) laboratory or test bench.
In terms of technical resources, and as engineering experts, the latest technology and specific resources are involved at every stage of the process:
For design, we work with applications such as Onshape or Solidworks.
Calculation work is carried out using Ansys Finite Element
Production work: Lamia test bench, 3D scanner, NDT elements (penetrating liquids, magnetic particles, magnetic resonance, eddy current and ultrasound).
Furthermore, and as we mentioned at the beginning of this post, the team of people that makes up Kimua is one of the company's main values. At Kimua we work with self-managed teams, i.e. teams made up of technical specialists from different areas who contribute their expert knowledge and are essential for the final success of the project.
Contact our technical team and learn more about our production process and what we can do for your project. Shall we talk?